<<
WebHome
---
Cosmic Topology
observations
The Poincare dodecahedral space better explains the WMAP 3 year observations than the infinite flat model.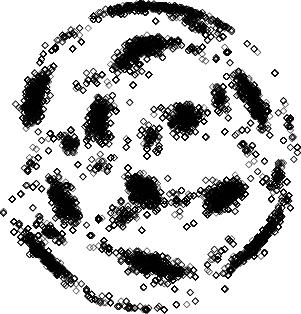 We proposed a method that involves a cross-correlation function - this uses more information than the original identified circles method. An optimal cross-correlation appears to be a stable solution, and finds a twist angle of close to +36 degrees.
theoretical work
The Poincare dodecahedral space is much better balanced, in the sense of the interaction between topology and gravity called the residual gravity effect, than other spaces.
people
People in our group presently working on cosmic topology subjects include:
older work
WMAP - identified circles - MonographCosmo
RLAGNs larger catalogue/histograms - Boud, Andrzej M, Staszek - mrb04
root of the identity in the spherical case - Boud
press releases
courses that include some cosmic topology content
BoudRoukema
- 14 Jul 2010